On May 8, 2023, La Grande School District celebrated our 2023 Crystal Apple Excellence in Education Winners.
Kylee Goodwin, Parker McKinley, Keri Myer and Margaret Spence were all recognized as 2023 Crystal Apple, Excellence in Education Recipients.
Kylee Goodwin is a 4th Grade Teacher at Island City Elementary School who has worked for La Grande School District for 13 years. Amazingly organized and full of energy, she excels at making her students feel part of a big family and community at school. Kylee manages her
classroom with excellence, creating an environment that fosters trust and high expectations. She made "kindness squad" T-shirts for all her students, who stand outside the school on specific days to welcome all students. One parent of a student whom Kylee made a big impact on said, "the way she believes in our child and sees them for who they are has made them in turn believe in themselves and we are forever grateful for her."
Parker McKinley is a 6th Grade Teacher at La Grande Middle School and is a varsity baseball coach at La Grande High School. He has worked for the district for 11 years. A dynamic teacher,
he creates a learning space where students can thrive and be challenged. Parker's instruction strategies employ best practices that not only effectively teach concepts, but effectively assess student understanding. He is also the leader of a highly effective PLC team. "Mr. McKinley goes above and beyond for the kids as well as the district!"
Keri Myer
is a Library Clerk at La Grande Middle School and she has worked for the district for 32 years. Always warm and caring, she takes the time to remember students' names and get to know them. Keri works hard to keep the library book collection relevant and to create a welcoming space, plus look for new funding sources to improve the library. She loves to teach kids that reading is the best! Students remember her long after they leave the middle school.
Margaret Spence is a Behavior Intervention Assistant at Island City Elementary School. She has worked for the La Grande School District for eight years. Always willing to go the extra mile to support students and staff, she helps students maximize their learning by getting needed skills to improve in the classroom. She supports teachers with student behavior in all settings and is always willing to step in and do whatever is asked. Her presence in the building is felt by everyone and her impact is needed each and every day. "She helps make Island City Elementary a great place to work and there couldn't be a more deserving person for this award."
Zanah Larson, 2023 Crystal Apple, Excellence in Education, Legacy Award Recipient
Zanah Larson is the K-5 ESOL (English as a Second Language) Teacher for La Grande School District and has worked for LGSD for eight years. Zanah works with the growing population of students whose home language is one of the 13 different languages now represented in the district, and she does so tirelessly and tremendously! She does fantastic work to support the students locally and strongly advocates for their needs in the community and state. She also trains and mentors staff and supports audits and adult education opportunities within the district.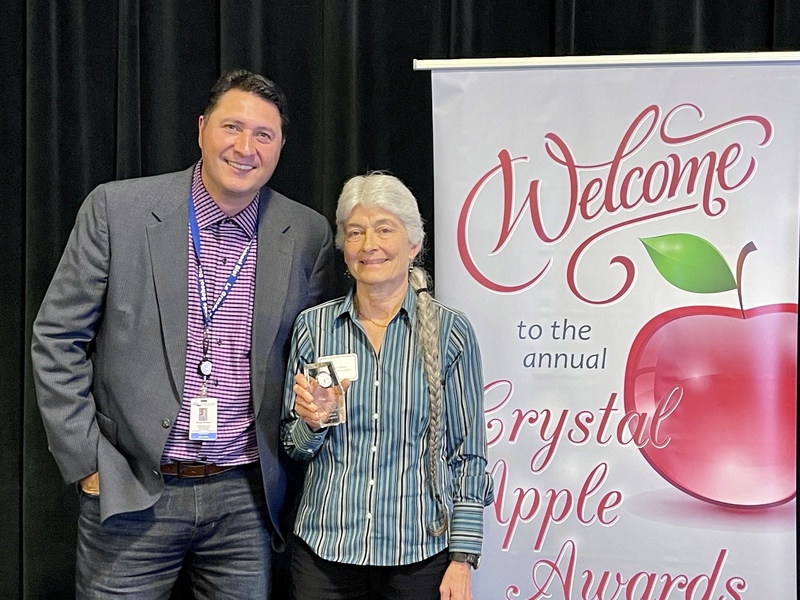 Superintendent George Mendoza and Zanah Larson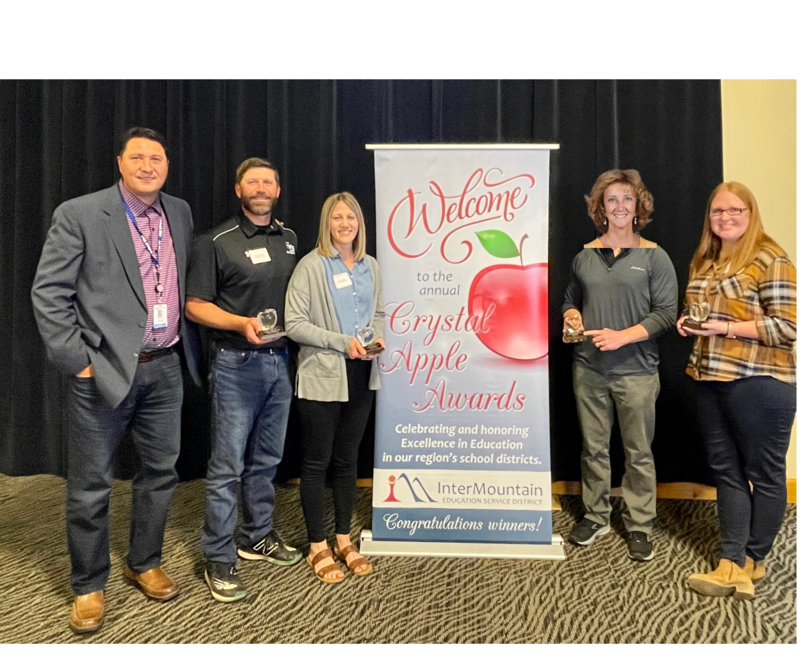 Superintendent George Mendoza, Parker McKinley, Kylee Goodwin, Keri Myer (award received by Chris Wagner) and Margaret Spence