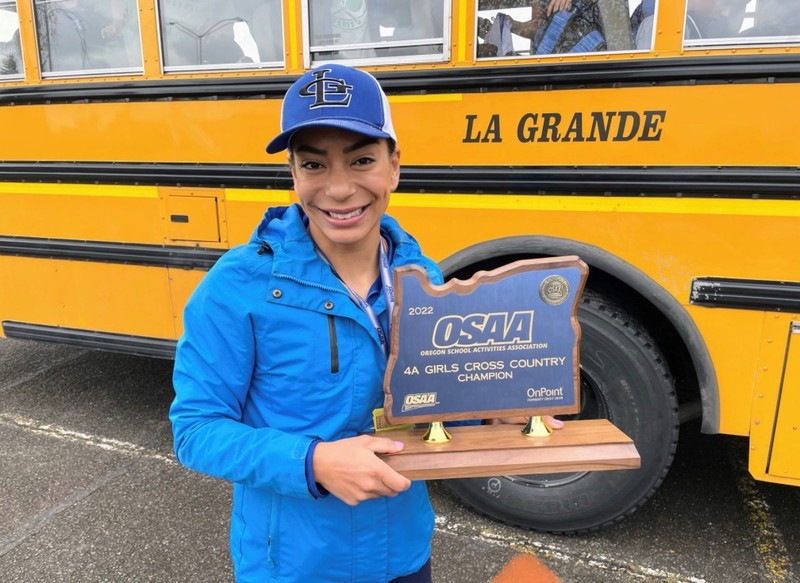 The La Grande School District is pleased to announce that the Oregon Athletic Coaches Association (OACA) selected two additional district coaches for honors.
OACA selected Alma Crow as the 4A All-Sports Coach of the Year for Girls' Cross Country and Parker McKinley as the 4A All-Sports Coach of the Year for Baseball.
Coach Crow has been coaching the La Grande High School Cross Country Team for 10 years. She said it is an honor to receive the OACA coaching award.
Crow describes growing up competing in cross country as a huge part of her life, which led to a running scholarship for Eastern Oregon University and opening the doors to many opportunities. "Building a strong cross country program at La Grande High School has been a true labor of love and has always been a personal goal of mine. I hope to have the same impact with my athletes' that previous coaches had in my life, paving a way for the next generation of runners," Crow said.
Coach McKinley has coached varsity LHS baseball for 12 years, 10 years as the head coach. He said he is blessed and honored to be able to spend time with the tremendous young players he coaches and to have the support of his family, assistant coaches, district administration, teachers, players' families and the amazing La Grande community.
"Awards like this only come along when we are surrounded by amazing people with a common goal in mind. Our student-athletes work endlessly to be committed to their classes, their teammates, their coaches and their families to be the best people they can be. The teamwork that everyone displays on a daily basis in La Grande is a special environment that we are all lucky to be a part of and be proud of," McKinley said.
Crow and McKinley will be honored and recognized at the OACA Awards Banquet in Eugene on May 27th.