Brad Sunderman didn't know how to build a greenhouse, but that's what he has been busy doing recently. Sunderman is the Maintenance & Custodian Manager for La Grande School District, and with the help of fellow maintenance department employees has been working on putting together the new greenhouse at La Grande Middle School.
Sunderman said the greenhouse project is similar to a large, generic erector set with vague instructions and quite a learning curve for the team. The greenhouse was purchased from Oregon Valley Greenhouse in Aurora, Oregon, so he has talked with them via phone and exchanged several emails, including photos with arrows for direction. "As district employees, we are all here in support of education, and sometimes we get an education, too!" Sunderman said with a chuckle.
The brand new greenhouse was purchased before the COVID pandemic, so the project was put on hold for awhile. This week, the crew is putting the plastic over the top and the hard plastic sections on the end walls and laying the ground cloth inside. Hopefully, it will be ready by February, when Sunderman's work ends and the students' work begins.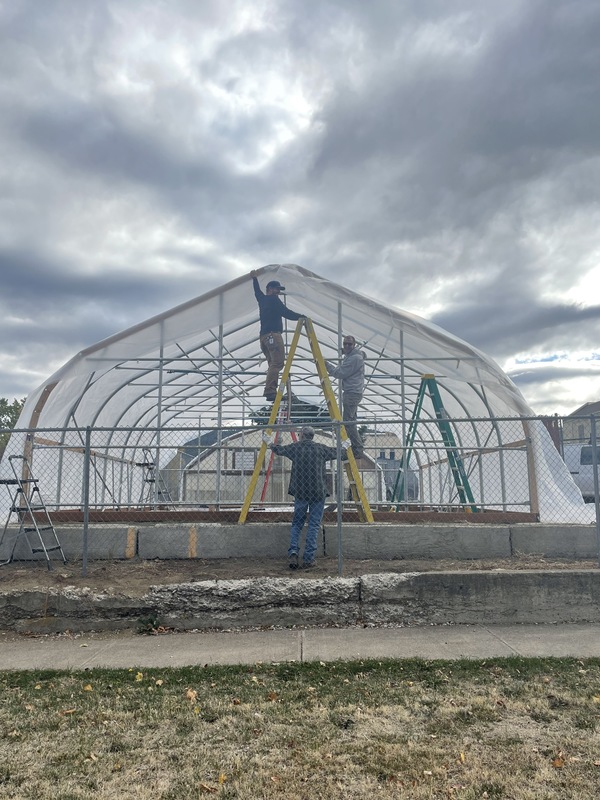 Dustin Knight, Brad Sunderman, and Tim Jordan pull plastic over the top of LMS's new greenhouse.